The "Do's & Don'ts" of Gingerbread Houses
7 years ago / in Bliss
One of the best parts about the holidays is all the delicious treats!  This time of year I just face the fact that I'm gonna want to eat everything & deal with the aftermath later…luckily we have an exercise room with a treadmill.  One thing I'm never tempted to eat though is the gingerbread house.  It may be the fact that it's from a box, or the fact that many people have man-handled it, but I never had the urge to break off the corner of a roof.
Last week, myself & a couple of my girlfriends got together to get in the holiday spirit.  We decided the best way to do it would be to have a gingerbread decorating contest.  We split into teams, & as the competition began, we quickly began to learn about the "do's & don'ts" of decorating a winning gingerbread house.
Do: Organize all the ingredients & carefully read the instructions.  After getting the bread out & putting all the candy into bowls, we read the instructions & realized that the house needed to be built & then sit for an hour before being decorated.  This minor mistake compromised the stability of our houses & made it very unsafe for the gummy bears that had planned to move in.
Do: Take your time & focus.  The best gingerbread houses are made with care & patience.
Don't: Decorate without a plan.  Although you may be dying to throw those multi-coloured gum drops on & make a Christmas tree out of that green fondant, take a minute to think things through & attack the house with a plan.
The house without a plan:
The house with a plan: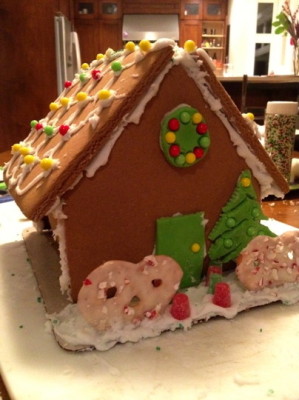 Do: Finish the competition off with some delicious dinner & drinks.  After a heated & intense face-off, friendships can be re-established over a toast & some good food.
Although the gingerbread could have turned out better, in the end we didn't care.  We just loved being in each others company doing something together to celebrate the holidays!  I missed you girls & I can't wait to do it again next year!
About
Hannah Jane
Just a girl sharing the baubles she loves & the bliss she experiences!
Related Posts