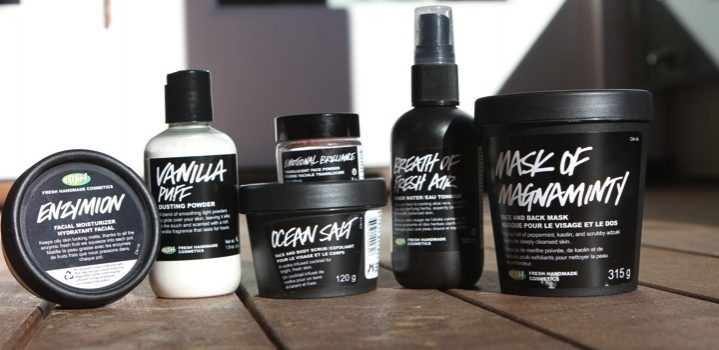 My LUSH Stash!
7 years ago / in Baubles
In case you didn't know, I am back home in Vancouver for 4 months of summer!  However, summer in college is not like summer in high school.  You can't sit on the couch or lay on the beach for days on end, (no matter how much we may want to) because one of the primary reasons for getting a degree is getting a job, & work experience is an important part of that.  So, like last summer, as soon as I got home I went on the job search.  Although I gained a lot of great experience with my job last summer as a Merchandiser/Sales Rep for Northam Beverages & enjoyed all the perks (free beer, wine, coolers, & cider…), I figured I should do something closer to my field of study.  So, when I was offered a position to intern with the Brand Communications team at LUSH Cosmetics, I saw the perfect opportunity to test my professional writing skills out.  I have been writing internally for the Internal Communications team & externally for the Copy team through LUSH's Fresh Handmade Blog for almost 2 months now!
Check out some of my posts on the LUSH Fresh Handmade Blog here!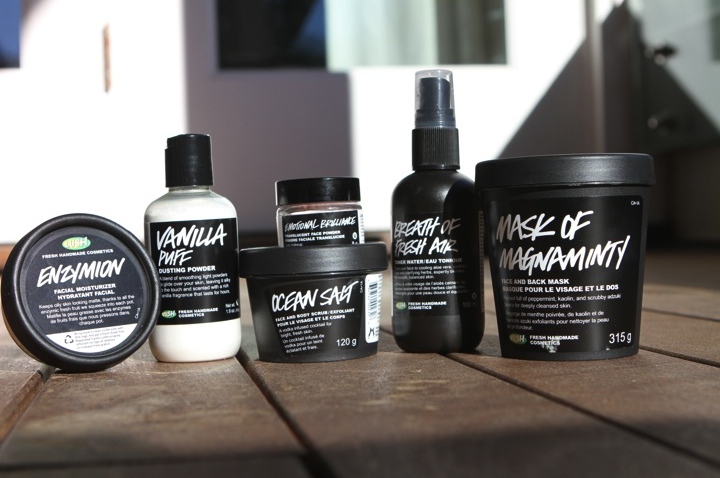 One of the first things I got to do as an introduction to the company was spend the afternoon in one of the shops, getting the full customer treatment & observing how the staff interacted with the customers.  Part of the customer treatment is a consultation, so I sat down with Amanda (who seemed to know everything & anything there was to know about LUSH) & she started to ask me all about my skin.
Whenever I'm asked about my skin, the first thing out of my mouth is a recap of my troubled acne past.  Every time I talk about it, I can't believe I ever had to deal with skin like that & I can't even imagine going back.  I remember trying every skin care system on the market & seeing zero results, my skin even getting worse in some cases.  It finally got so bad that I had no choice but to see a dermatologist.  After two dermatologists, several prescribed skin routines paired with medication, & no drastic results, I found a last resort in a heavy-duty dose of Acutane.  Anyways, my skin today is better than I ever imagined it could be.  Sure I get the occasional blemish, but my acne no longer plagues my self-confidence like it used to.  So, after sharing my acne-scarred past, my current struggles, & my ideal skin, Amanda set me up with a whole LUSH skin care routine.  So here it is, along with some other discoveries I made & adore!
Ocean Salt
By far, this is my favourite LUSH product yet.  Others seem to agree with me because it's the top-selling product at LUSH!  I find as the seasons change, my skin goes through transition & becomes very dry.  This leads to build-up on my face & causes me to break out. I've used mud masks in the past, but they often take too much time & don't often clear up my face as well as I would like.  This is where Ocean Salt comes in!  With sea salt from our local Vancouver Aquarium to exfoliate, avocado & coconut to balance and hydrate, & lime & vodka to brighten & cleanse, this stuff leaves my face feeling fresh, soft, & squeaky clean! It smells amazing and it's so easy & quick to use.  I don't use Ocean Salt everyday because it's never good to over-exfoliate, but I have to restrain myself & only use it 2-3 times a week. It also works on the body too, so it's a win win! (It's great to use to exfoliate your legs before shaving.)
Mask of Magnaminty
Sometimes you need to spoil your skin with a facemask, especially during the summer when it constantly being coated in a layer of thick sunscreen.  When I went to LUSH for a product consultation, I was asked how I like my skin to feel.  Since my skin is usually fairly oily, I said that I love for it to feel light & fresh.  This response led to the recommendation of Mask of Magnaminty!  With China clay & fresh peppermint to clear pores, aduki beans to exfoliate, & vanilla absolute & honey to calm redness & soothe the skin, this mask is the perfect deep cleanse for my skin.  I only use this mask once in a while, but it's the perfect treat for your skin at the end of a long week.
Although everything at LUSH is fresh, there are super fresh Fresh Face Masks that are only sold in store on ice.  Although I love Magnaminty, I might have to change it up & give one of these concoctions a try!
Fresh Farmacy
This calamine-based cleanser is the gentlest & most soothing face wash I've ever used.  Designed specifically for troubled skin, chamomile extract calms, rose & lavender fix up those dry patches, & tea tree clears your skin of those annoying little blemishes that conveniently pop up.  To use, I wet the bar & rub it between my hands until a creamy lather starts, which I then apply to my face & rinse off.  It leaves my skin feeling so squeaky clean & relaxed, like my tough day & all my skin problems are being washed down the drain every time I use it. (Sorry I have no picture!  It's a pretty pink soap but I've already used half, so it's not so pretty anymore…).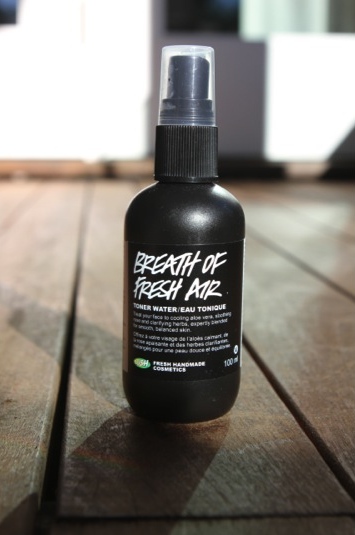 Breath of Fresh Air
I have been on any & every skin care routine, trying to find the cure to my acne-prone skin.  Although none of them really worked for me, I noticed that one thing all of these routines had in common was a toner.  I remember the toner being the worst part of my morning & nightly regimen, stinging my face like no other.  I knew it was killing the bacteria on my face, but it also made my skin really red & irritated.  So when I was recommended another toner, I was a little hesitant.  However, Breath of Fresh Air is perhaps the most calming & refreshing spray I've tried (& I've tried a lot, trust me).  With fresh seawater to cleanse, carrageen extract to deliver vitamins & minerals, & rose absolute and aloe vera to soothe dry skin, this toner calms & clears your skin.  It really saved me after I got a pretty bad sunburn on Canada Day walking the sea wall.  With hot & sore skin, a spritz of Breath before bed gave my skin relief & some of the hydration it so desperately needed.  (It's also recommended for the office & planes…one spritz & you're a whole new person!)
Enzymion
Since my skin is usually oily, I really hate heavy lotions & creams and would often rather go without.  However, after mentioning this in the consultation, it turned out that LUSH had the perfect moisturizer for oily T-zone faces!  With delicious smelling pineapple, papaya, & lemon, Enzymion cleanses your face while mattifying your oily skin, using avocado & primrose oils to deliver all the essential vitamins & minerals your skin craves.  I actually learned recently that if you do not moisturize, your skin over compensates & produces more oil in order to hydrate the skin…so fight moisture with moisture!
Other Finds…
Emotional Brilliance Translucent
For someone with skin that tends to get a little oily throughout the day, this powder is a godsend!  I put a dusting of this little pink translucent powder all over my face to set my makeup and cut the shine of my foundation.  Although a tad difficult to apply out of its tiny pot, it's worth the struggle to be shine-free!
Vanilla Puff
I don't use lotion all that often because I hate the way it makes my skin feel greasy & heavy.  I even often feel like I defeat the purpose of the shower when I coat myself in lotion.  Not only does it make my skin feel thick, but it makes my clothes oily & dirty too.  Your skin does need some moisture though, & I happen to find the perfect solution at LUSH.  Their dusting powders make your skin feel silky smooth without the grease.  I brush some on right out of the shower or dust myself after putting on lotion to cut down on the oiliness.  Right now I use Vanilla Puff, which smells good enough to eat (my mum loves Silky Underwear!).  I've also been told it's great to dust a little onto your pillow before bed.  Sweet dreams…literally!
Popcorn Lip Scrub
Anyone who knows me knows I love popcorn.  A popcorn flavoured scrub that makes my lips incredibly soft?  Yes please.
I'm still at LUSH till the end of July, so that still plenty of time to find more favourites.  Have a suggestion of something I should try?  Share it with me!
About
Hannah Jane
Just a girl sharing the baubles she loves & the bliss she experiences!
Related Posts