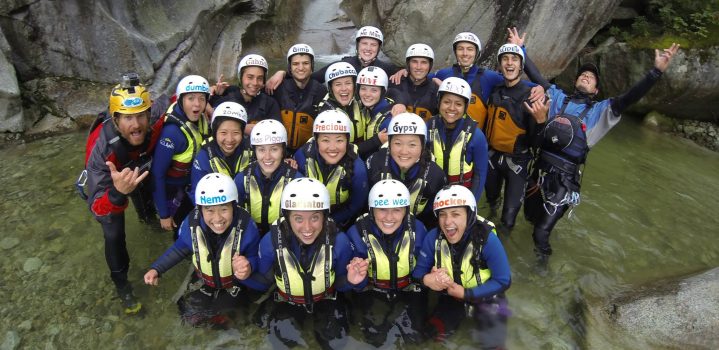 Canyoning in Interlaken!
7 years ago / in Places, Switzerland
[codepeople-post-map]This summer, my brother Jonny travelled to Switzerland to attend a youth leadership conference.  Whenever he travels, he never keeps in contact with me or any of my family. We're lucky if we get one text the entire time he's gone…he's actually made a reputation for himself, especially with my mum.  This summer we got one text: "Went canyoning today.  It was awesome."
I knew that if canyoning was worth not just a text from Jonny, but an entire sentence, it was something worth doing.  So when a group was planning on going canyoning in Interlaken, although I was hesitant at first, I knew that it was something that I had to experience!  Caroline & I looked up the canyon & watched some videos that made us a little nervous, but we soon found out that it wasn't as scary as it looked.
We got up at the crack of dawn and headed down to the train station to catch a 5:45am train.  Now if you think that's early, there was some discussion about catching a 2am train in order to use our Voie 7.  This is a train pass that you can purchase that allows you to travel for free on trains in Switzerland between the hours of 7pm and 5am.  If we had left earlier, we wouldn't have to have bought tickets, but in the end we figured that a few more hours of sleep was worth 26 CHs.
We arrived at the station in Interlaken & after grabbing some coffee, met up with our guide who brought us over to the base camp to get suited up.  We were fitted for wet suits, jackets (it was so cold they suggested I wear two!), water shoes, life jackets, & helmets.  However, these weren't just ordinary helmets.  Instead of trying to learn everyone's name, the guides just use the name on your helmet to communicate with you.  He Man, Dumbo, Cartman, Zombie, Sexy, Gandhi, & Chewbacca were just some of the possibilities.  I ended up being Miss Piggy for the day: "How you doing Miss Piggy?  Jump over there Miss Piggy!  Step right here Miss Piggy!"  After the experience I'm sure I will still respond to Miss Piggy, my new canyoning alter-ego.
After assembling our gear, we headed off to the Grimsel canyon.  Our original plan was to canyon Chli Schliere, a more challenging course, but the canyon was flooded so we had to settle for Grimsel!  As we pulled off at Grimsel, I looked over the edge & saw a massive rock wall, completely vertical.  To start off, we had to repel down the cliff & into the canyon.  Although I am not afraid of heights, the idea of hanging off the side of a cliff, several hundred feet off the ground, was not a comfortable one.  With just a few butterflies, (okay, maybe actually Mothra) I was strapped in & repelling down into the canyon.  Although there were a few hiccups, I made it down smoothly & actually found it pretty amazing, especially once my feet hit the water & I found myself in a fresh water canyon in Switzerland.
The canyoning itself is like nothing I have ever done before.  It consists of climbing, jumping, repelling, sliding, & zip lining through a natural canyon.  As a group, we took turns climbing up rocks & either jumping off, or sliding down into pools of fresh, Swiss Alps water.  The highest jump of the day was 30 feet & the canyon ended in a zip line!  There were times when I looked down & thought I would hit the rocks, but I put my faith in the guides & trusted that they knew the canyon well enough to make sure I wouldn't have to be air-lifted out!  The water was, of course, freezing, & my hands were close to falling off, but I loved the entire experience!  We found out afterwards that our excursion was the last of the season, making the trip all that more valuable & memorable.
The only thing I regret is that I couldn't bring my camera!  Luckily, the guides had Go-Pros on their helmets & recorded the entire experience!  Here is a video of the canyon itself & of me surviving it!
After drying off, we headed into the small town of Interlaken to reward ourselves with some delicious fondue & chocolate by the bluest river while we waited to catch the train…rugged canyon adventurers like chocolate too!
About
Hannah Jane
Just a girl sharing the baubles she loves & the bliss she experiences!
Related Posts