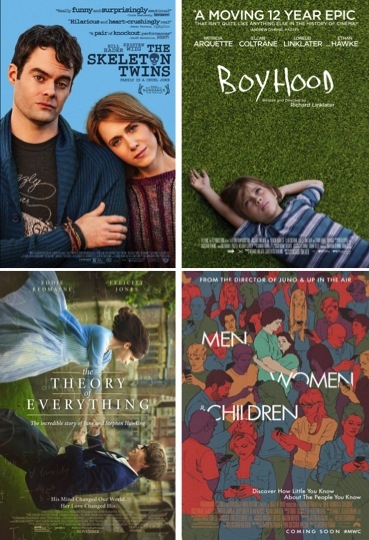 My Must See Movies
6 years ago / in Bliss
In case you didn't know, I love watching movies. Although it may be somewhat due to the fact that popcorn always goes hand in hand with a movie (& we all know how much I love popcorn…) but like reading, film has the power to transport you to another place. Since the entire semester so far has been a blur, going to the movies has not been a priority, especially since getting enough sleep is even a struggle. So, I've started to make a list of my must-see movies in the hopes that one day I will able to cross them all off. I thought I'd share my most recent additions so at least maybe someone else can enjoy them while I continue to try to find the time to.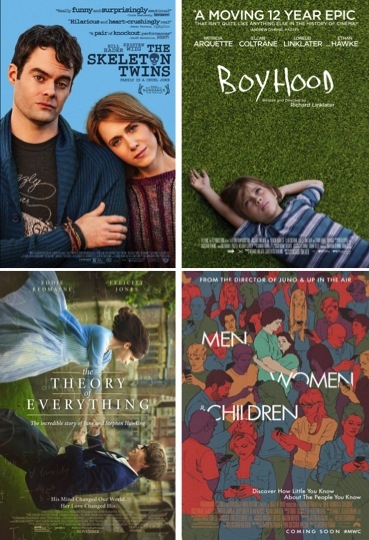 The Skeleton Twins
The Skeleton Twins is the story of twins who happen to, on the same day, evade death, forcing them to reunite. This movie has Kristen Wiig in it so I'm obviously going to see it…
Boyhood
As soon as I heard about this movie, I wrote it down & have wanted to see it ever since! This film is 12 years in the making…12 years! We watch as a little boy goes through the struggles & successes of growing up. Nothing like this film has ever been made before & I am dying to see it.
The Theory of Everything
Everyone knows who Stephen Hawking is but do you really know anything about him? This movie tells the story of the man behind the mind.
Men, Women & Children
Everyone's been talking about this movie (partially because it has some pretty big names in it) because it's somewhat of a commentary about social media in modern life. It kinda reminded me of Her but without the part about actually falling in love with the phone…
Fingers crossed I find the time to watch all of these before Oscar season rolls around & my list doubles…
About
Hannah Jane
Just a girl sharing the baubles she loves & the bliss she experiences!
Related Posts