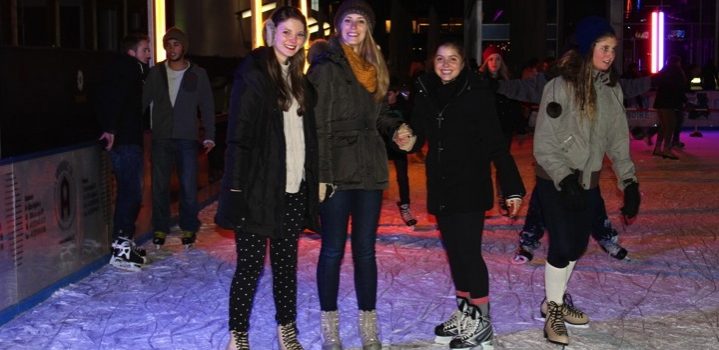 Ice Skating en Suisse
7 years ago / in Places, Switzerland
This past week has been crazy.  It was the last week of classes & the last week before finals…guess what that means?  That's right.  Everything (& I mean everything!) was due.  I had research papers, presentations, & travel journals to complete & hand in.  Hopefully this explains why I have been MIA on the blogging front recently.  However, the good news is that I'm done & finished everything on time.  The bad news is that we have finals this week & that means it's the end of the semester!  I am beyond excited to go home, but I am also sad because we have to say goodbye to some members of our Lausanne family who are not coming back for spring semester…I will miss you all!  On a lighter note, since we all survived the week & also managed to put on an amazing American Thanksgiving dinner that included 52 pies, we decided we had more than enough reason to celebrate.  So, on Friday night the whole Lausanne family walked down to Flon to go ice skating on a rink they had set up in the square!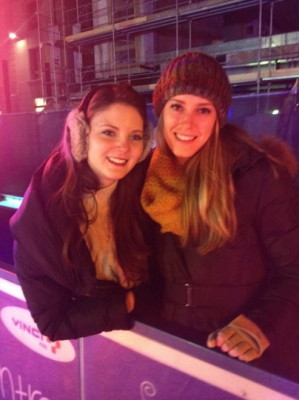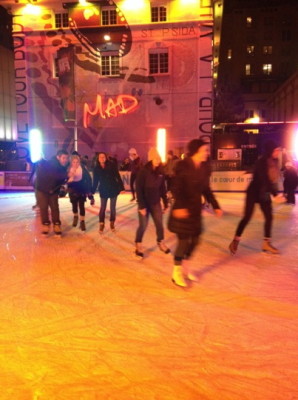 I am Canadian, in case you didn't know, & being at an American university & going to school with American students means that I have to deal with a lot of "Canadianisms".  The stereotypical Canadian lives in an igloo, wears jean suits, lives off maple syrup & poutine, & is obsessed with hockey.  Although that last one may be correct 99% of the time, the others are not (although I do love me some good poutine).  What people need to understand though is that although we all love hockey, that doesn't mean we can all skate!  There was never really a huge demand for girls' hockey when I was little & my early attempts at figure skating lessons were not successful (they tried to teach me to skate backwards before learning how to skate forwards, so as a logical 5-year-old I quit).
Anyways, as I hit the ice, my supposed Canadian instincts did not kick in & I was completely horrible.  Although I may not have instincts, luckily I have some amazing friends.  Natalie, who is ironically from Miami & has never seen snowfall, helped me out & taught me how it's done.  While she was teaching me, every single person we skated past had a stereotypical comment about Canadians & ice skating.  These comments only fueled my Canadian fire though & I eventually moved from hands, to pinkies, to skating all on my own!  Next time you see me I'll be carving up the ice like a "real" Canadian!
Thank you to Caroline for the photos!  As you can probably tell I was a little preoccupied…
P.S. Here's a little November check-in video courtesy of our videographer!
About
Hannah Jane
Just a girl sharing the baubles she loves & the bliss she experiences!
Related Posts