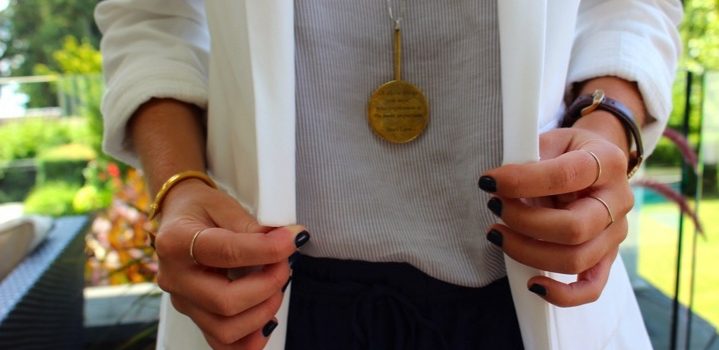 My Anthropologie Picks
6 years ago / in Baubles
In case you didn't hear, this summer I am working at Anthropologie & in case you didn't know, it also happens to be one of my favourite places to shop! This ends up being one of those win/lose situations. On one hand, I get an amazing discount & have the best excuse to justify buying a little more than usual. On the other, I stare a clothes that I want all day & end up spending most of my paycheck. Either way, I love my job & my style is inspired everyday. So, I thought I would share some of my favourite Anthro picks with you!
Seaflower Wide-Legs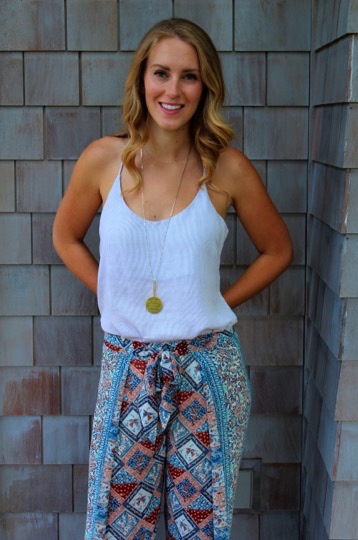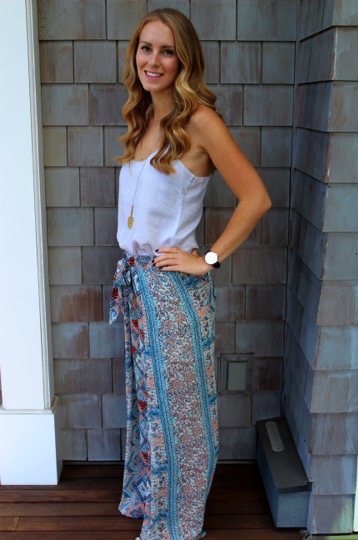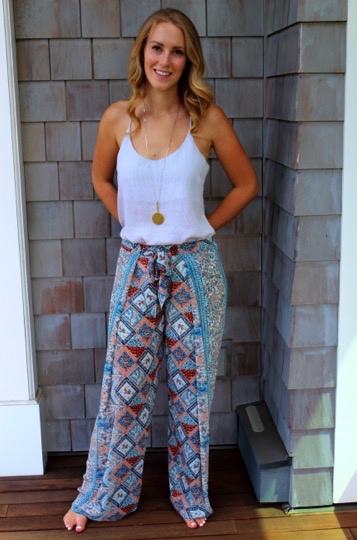 I'm not usually one to make a bold statement, but these Seaflower Wide-Legs are my absolute favourite! This colourful print is so versatile – it can be dressed down for day, or up for night. I usually pair it with my Cloth & Stone Pinstriped Racerback Cami, but you can really wear it with anything, from denim to silk! (P.S. these pants are now on sale!)
Sunlit Kimono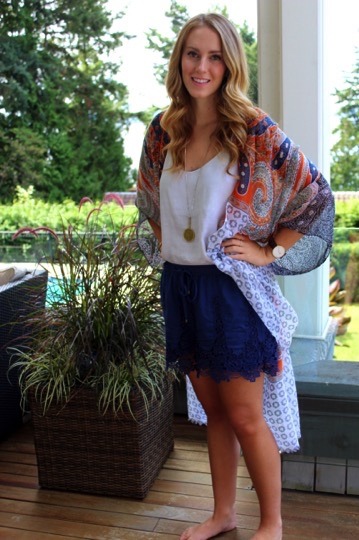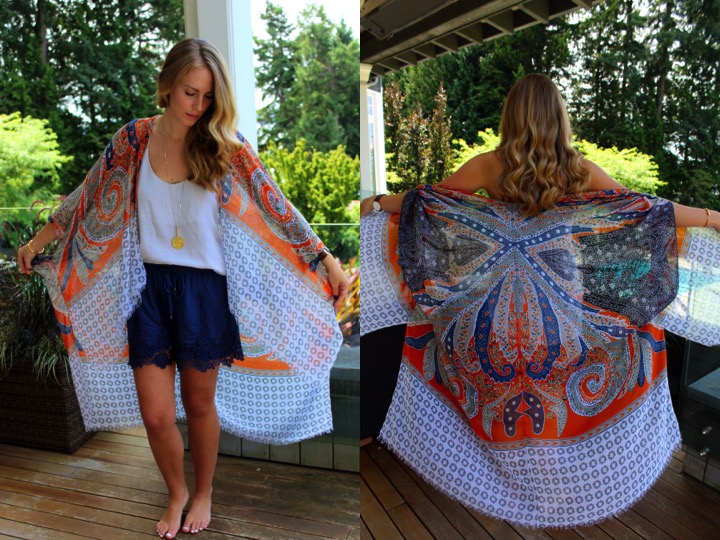 Kimonos are my new favourite accessory! With undertones of black, grey & navy, the Sunlit Kimono can add a little extra something to anything, from jeans to these Filigree Lace Shorts.
Bexhill Blazer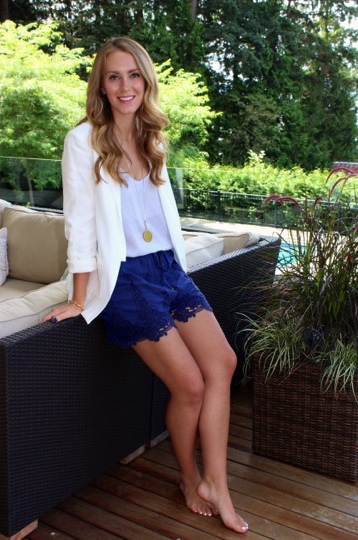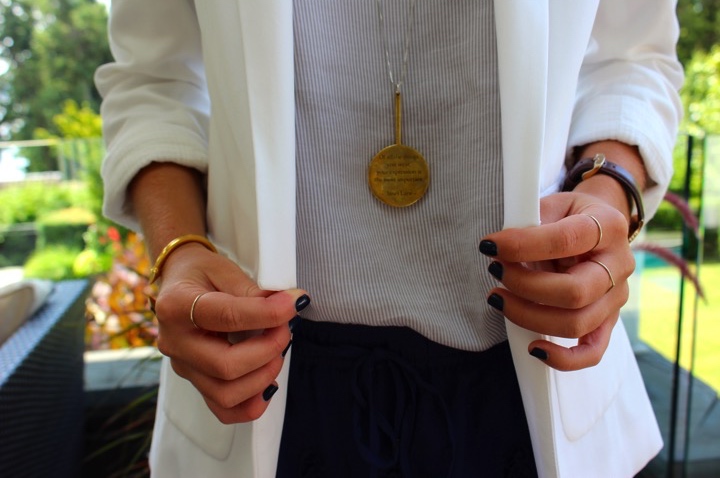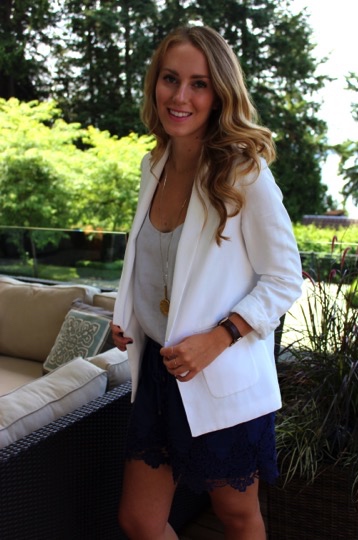 This is one piece that I stared at for days before buying. I wasn't sure a white blazer was a must-have in my closet, but this Bexhill Blazer could not hang anymore beautifully. The absence of buttons & the soft draping make it simple to style & easy to transition from day to night. It's my new go-to to elevate any outfit!
In the past couple months, my love for Free People has grown & I often find myself stopping by since we're all family. So, since they are quickly becoming one of my new favourite places to shop, I thought I'd also squeeze in two of my new "free" summer looks…
Sleeveless Hi Neck Swiss Dot Tunic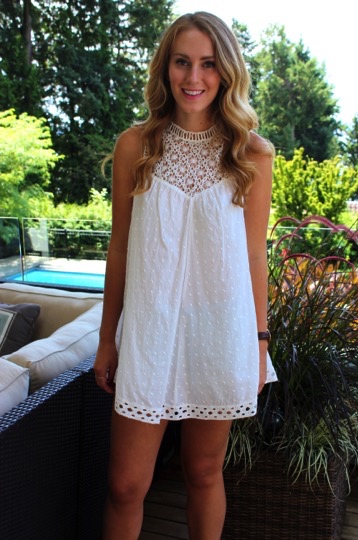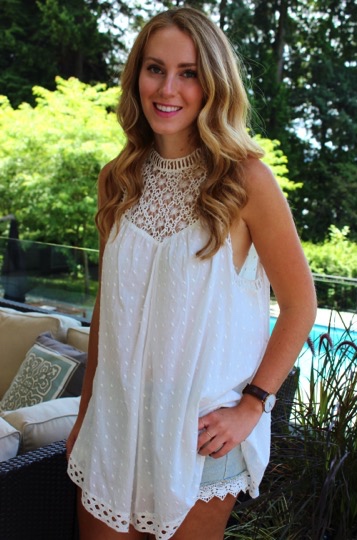 So, my mum first spotted the Swiss Dot Tunic on Jillian Harris' (former Bachelorette) blog, fell in love & surprised me with it one day after work. I don't own many tunics because unlike most people, I am way too tall to get away with it as a dress, but this one was so lovely I had to make it work for a 5'10" girl. I paired it with these Lacy Denim Cutoff Shorts that preserve the tunics femininity. I totally wish it was long enough to wear as a dress, but at this length it would be a little more than risque…
Into You Slip Dress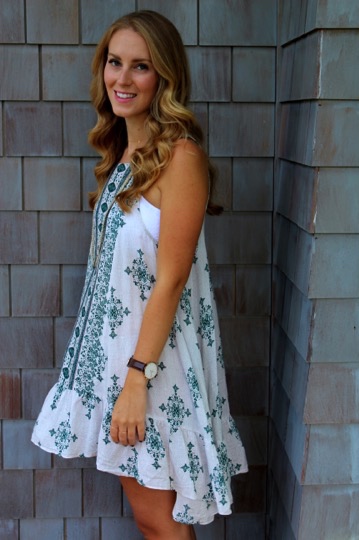 The Into You Slip Dress has been my favourite dress of the summer! I have really grown to love dresses as they are effortless & you don't even have to think about what bottoms to pair with your top. This one comes in a variety of beautiful colours, but I love the soft green & blush pattern. Because it is fairly low cut in the arms, you may by looking for a little extra something underneath, but Free People's bralettes are the perfect solution! Whether you want something simple or something with a more to it, they have something for everyone! This one is my favourite & what I like to wear with this dress as the cutout in the back shows off a little of the crochet.
Need more style inspiration? Scroll down on the product pages to check out how others have styled each piece to make it their own!
About
Hannah Jane
Just a girl sharing the baubles she loves & the bliss she experiences!
Related Posts