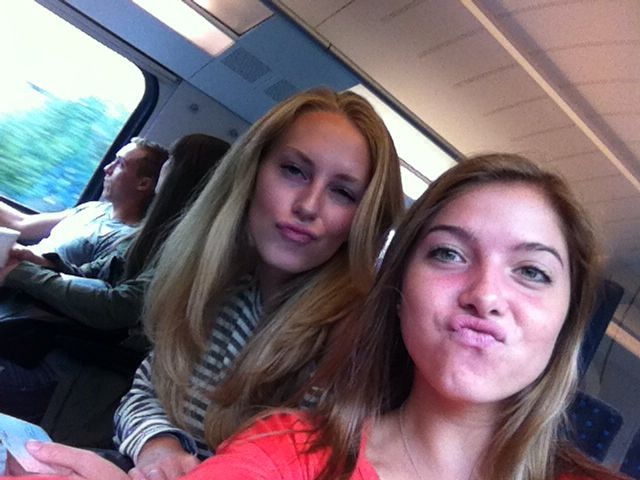 Chocoblock Full!
8 years ago / in Places, Switzerland
On Sunday everything is closed in Lausanne.  This ended up being a big dilemma for us North Americans who are used to being able to grocery shop & head to the mall on a rainy Sunday.  Caroline & I spent the entire night before trying to figure out what to do, not wanting to waste a single day in beautiful Switzerland!  We got up that morning with no intention to do anything in particular, having given up searching the night before.  It was then that Natalie burst into our room asking if we wanted to catch a train to Gruyere & then to Broc-Fabrique, homes to a cheese factory & the famous Cailler chocolate factory.  After a split second decision, we grabbed our cameras & ran to the train station.  After a lot of confusion & missing a train by minutes, we bought our tickets & headed off to the lands of cheese & chocolate!
Once we got to the cheese factory in Gruyere, instead of taking a tour to see how the cheese was made, we decided our time would be better invested in simply eating it.  We ordered fondue to share & a bottle of sweet white wine (apparently wine is ideal to drink with fondue – it keeps the cheese & bread from sitting in your stomach!).  The fondue included everything from bread & potatoes to onions & pickles for dipping.

Unfortunately, it was delicious and we ate our weight in cheese.  It was then that we rolled ourselves onto the next train to Broc-Fabrique to stuff our faces with Cailler chocolate.  We arrived & walked into a room of wall-to-wall chocolate.
Resisting the worst kind of temptation, we decided to take the tour & do the tasting before buying any chocolate – & thank god we did!  After going through the history of chocolate, the founding of the Cailler brand, & the inner workings of the factory, the tour ended in a tasting.  We had to get our 8 CH worth, so we tried every kind of chocolate!  It was delicious, but let's just say we ate so much that actually buying any chocolate was the last thing we wanted to do.
The key to sampling chocolate is to pace yourself & have water on hand at all times…it's a marathon, not a sprint!  Other than some queasy stomachs & a temporary aversion to chocolate, our first spontaneous trip was a success.  I can't wait to plan more – maybe next time a little less food focused for the sake of our tummies!
About
Hannah Jane
Just a girl sharing the baubles she loves & the bliss she experiences!
Related Posts