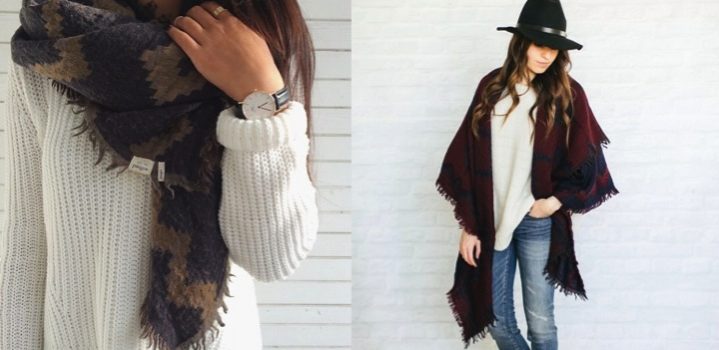 For the Love of Scarves
7 years ago / in Baubles
If you know me you know that I'm a sucker for scarves. Whether they're around your neck to keep you warm, make a statement, or add the finishing touch to an outfit, a scarf can be one of your greatest accessories. With so many types & styles, I thought I'd do a little "scarf 101" so you learn to love them as much as I do!
Decorative Scarf – There's nothing better to dress up a plain t-shirt or re-invent an old outfit than a scarf – any colour or pattern will do! Tie it in a knot, loop it around or just let it drape across your shoulders.
Poncho – They may be a thing of the past, but there's nothing out of date about these chic ponchos! Not only are they a stylish layering piece, but you can find some that are warm enough to double as a jacket.
Cowl Scarf – Keep your neck warm during the winter with one of these cuddly cowls. I always end up pulling these scarves up over my face whenever I'm battling icy wind!
Infinity Scarf – Simple to wear & style, there's nothing easier to throw on than an unending scarf! Don't wear scarves because you have no idea how to knot or wrap them? Then the infinity scarf is for you. Just loop it around once & you're done!
Knitted Scarf – What's cozier than a knitted scarf around your neck? These are a classic style & you can find them anywhere. However, I'm contemplating learn how to knit just so I can make one of these bad boys myself.
Blanket Scarf – Right now there is nothing I love more than a blanket scarf. Whether you need to bundle yourself up tight or need a little something to keep you warm, this scarf is versatile & perfect for any season. I love Wilfred's "Diamond Mosaic Blanket" & so does this Frenchie!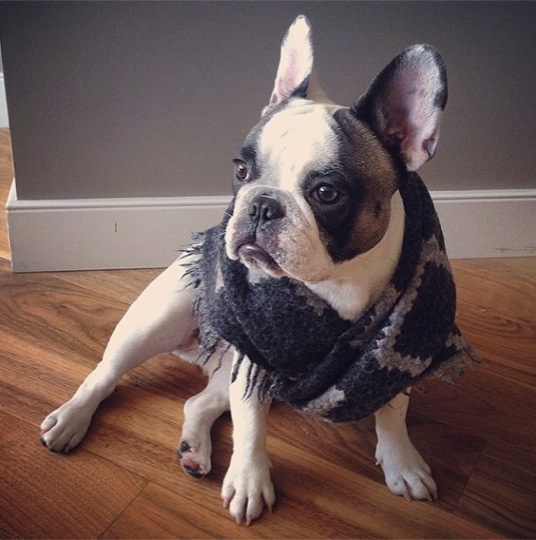 Need some inspiration? Here's 25 scarf styles! P.S. I dream of someday owning one of Alexander McQueen signature scarves used in the video…
Some of my favourite stores for scarves:
http://www.anthropologie.com/anthro/category/scarves/accessories-wraps-scarves.jsp?cm_sp=LEFTNAV-_-SUB_CATEGORY-_-ACCESSORIES-WRAPS-SCARVES#/
http://www.urbanoutfitters.com/urban/catalog/category.jsp?id=W_ACC_SCARVES&cm_sp=WOMENS-_-L3-_-WOMENS_ACCESSORIES:W_ACC_SCARVES#/
http://aritzia.com/en/accessories/scarves
About
Hannah Jane
Just a girl sharing the baubles she loves & the bliss she experiences!
Related Posts